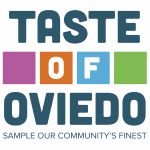 Calling All Cooking Lovers to the All New Taste of Oviedo Culinary Demonstration Contest
Do you love to cook? Do you have a recipe that the whole family enjoys and friends always ask for? Are you comfortable on a stage? Have you ever secretly dreamed about being the next Food Network Star? Then you should enter the recipe into our contest for a chance to be our featured presenter at the Culinary Demonstration Tent on Saturday, March 25th!
The theme for the recipe is Sweet & Savory. Your recipe must feature an ingredient that is sweet and/or savory.
Taste of Oviedo is introducing this brand new area to the event which will feature local and regional chefs presenting a variety of tips, tricks, techniques, recipes, and secrets to festival foodies in this fun and relaxed area. We'll have 3 culinary demonstrations/presentations throughout the day with limited samples following each presentation so make sure you're front and center at the Culinary Demonstration Tent! This portion of Taste of Oviedo is tying in an old pastime, Citrus and Celery.
Enter Taste of Oviedo's Inaugural Culinary Demonstration Contest for a chance to demonstrate your recipe under the big top.
Deadline to apply is January 27th, 2023.
Our judges will determine the winner of Taste of Oviedo's Culinary Demonstration Contest by judging all qualifying entrants' entries based on the following criteria:
Does this recipe taste good with every bite? Does the dish represent the theme?
Does this recipe appeal to fellow home cooks? Are the ingredients easy to find?
What's the story or memories that go along with this recipe? Have you added your personal
touch to the recipe?
Does the dish look beautiful and delicious on a plate or in a baking dish?
The 1st place Home Chef will win a demonstration slot at the Culinary Demo Tent to present their recipe, plus you'll receive a cash prize of $100.
The 2nd place Home Chef will receive a cash prize of $75.
The 3rd place Home Chef will receive a cash prize of $50.
Deadline to Apply: January 27th, 2023
Entries should include:
Contestants full name, address, email and cell phone
Full recipe and instructions typed out.
A short video (30-60 seconds) explaining why this recipe means so much to you and why you want to share it at Taste of Oviedo under the Culinary Demonstration Tent.
Please note: The recipe should only take 30 to 45 minutes to prepare. You provide the ingredients. We are grateful to for providing a full kitchen, including cookware, bowls, utensils, etc. for you to use.
Once we receive your submission, we'll reach out to you to confirm.