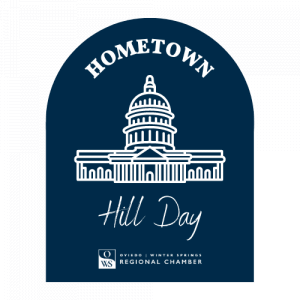 A Central Florida Leadership Forum
Monday, June 26th | 8:00 am - 4:30 pm
Hometown Hill Day is your chance to meet with our federal representatives, state representatives and elected officials. As the political climate continues to evolve, it's more important than ever to stay informed and engage in meaningful discussions. From analyzing the current state of affairs to discussing the latest trends and predictions, this event promises to be an insightful and thought-provoking experience.
We are excited to host panel discussions featuring some of the most prominent political commentators and experts in the field. Our federal, state and local officials will be available to discuss and promote awareness about different political issues affecting our community. With 5 different sessions, this is your chance to advocate for your business and meet with the elected officials who can help make change happen.
Cory Mills - U.S. State Representative
Lee Constantine - Seminole County Commissioner District 3
David Johnson - Seminole County Property Appraiser
Grant Maloy - Seminole County Clerk of the Courts
Sheriff Dennis Lemma - Seminole County Sheriff
Chris Anderson - Seminole County Supervisor of Elections
J.R. Kroll - Seminole County Tax Collector
Megan Sladek - Mayor of Oviedo
Kevin McCann - Mayor of Winter Springs
* Speakers subject to change
**The Hometown Hill Day ("Event") is an event produced by the Oviedo-Winter Springs Regional Chamber of Commerce, Inc., a 501(c)(6) ("OWSRCC"). OWSRCC does not endorse any candidate regardless of their participation in the Event. The statements of the candidates reflect their own opinions, positions, and thoughts, and are not endorsed by OWSRCC in any manner. To the extent each candidate is paying the same fee to participate, their respective candidate pages will have an electioneering disclaimer using the language of the candidate; provided, however, that the OWSRCC as host of the page makes no endorsement or approval of any such disclaimer or the candidate bio page itself. Questions should be directed to jhook@owsrcc.org.
Become A Sponsor: All sponsorship information is listed down below. Use the link below to secure your sponsorship. If you have questions, please send an email to Jordan Hook.
Tickets: Tickets to the event can be purchased using the link below. We have many different options to fit your schedule.
Volunteer Opportunities: Please contact Jordan Hook for volunteer opportunities
$2,000
Name inclusion in the event: "Hometown Hill Day Presented by Your Business"

5 minute speaking opportunity before each session

4 All Day tickets to event

Logo on website with backlink to your website, all marketing materials, in Chamber weekly e-newsletter

Social media mentions

Display table for marketing purposes
$1,500
2 All Day tickets to event

Logo on website with backlink to your website, all marketing materials, in Chamber weekly e-newsletter

Social media mentions

Display table for marketing purposes
$1,000
2 minute speaking opportunity during Mix & Mingle session

2 All Day tickets to event

Logo on website with backlink to your website, all marketing materials, in Chamber weekly e-newsletter

Social media mentions
$750
Breakfast, Mid Morning and Lunch Sessions available

2 tickets to specific session

Logo on website with backlink to your website, event specific marketing materials, in Chamber weekly e-newsletter

Social media mentions

Display table for marketing purposes at specific session