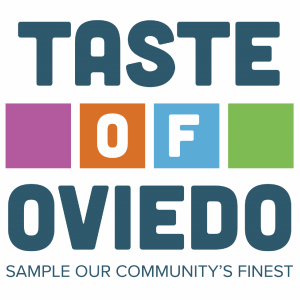 March 25, 2023 | 10:00 AM - 6:00 PM | Oviedo Mall
Local Vendors. Local Music. Local Family Fun.
The Oviedo-Winter Springs Regional Chamber of Commerce and the City of Oviedo proudly produces Taste of Oviedo!
The 29th Annual Taste of Oviedo presented by AdventHealth will feature food and beverages from local eateries, live entertainment, our Oviedo Roots Farmer's Market, a free kid's area with bounce houses and other family-friendly performances and activities.
The theme for this year is. . . coming soon! All food vendors will highlight one themed dish. Vote for your favorite themed dish in our Best of Taste competition supported by the Seminole County Supervisor of Elections office.
The festival is open from 10:00 a.m. - 6:00 p.m.
Admission is FREE!
We offer many opportunities for businesses to get their name in front of 20,000 visitors at Taste of Oviedo. Please contact Jordan Hook for more information: jhook@owsrcc.org or 407-278-4871.
$10,000
Name inclusion in the event: "Taste of Oviedo– Presented by Your Business" 

Premium booth location with option of a larger tent size with tent, table and chairs
Google Ads
Inclusion in print and radio ads (based on approval from radio stations)
Full social media campaign

Logo with backlink on website

Microphone opportunity on entertainment stage for your representative
Logo on all marketing and collateral materials
Listing as sponsor on event signage
Additional banners at event
PA Recognition at event (20 sec announcement every hour)
Recognition at Chamber Luncheons (through March 2023)
Logo in Chamber weekly e-newsletter (through March 2023)
Recognition in post-event chamber e-newsletter and Thank You ad
Add on Benefits:
Quote from chosen representative in (1) exclusive presenting sponsor press release
Option for bag and/or lanyard sponsor for (1) year- bags and lanyards provided by sponsor
$4,000
Premium booth location with option of a larger tent size with tent, table and chairs

Dedicated Facebook Video

Boosted social media Facebook post

PA recognition on stage every hour during event

10' x 10' booth space with tent, table and chairs

Logo with back link on website

Social Media mention on all platforms

Logo on 2' x 3' sponsor banner at event

Logo on flyer or marketing poster

Recognition and promotions through the Chamber
Sponsorship Options
Auto Dealer Sponsor

Kid's Area Sponsor

STEM and Arts Area Sponsor
$2,500
Boosted social media Facebook post

PA recognition on stage every hour during event

10' x 10' booth space with tent, table and chairs

Logo with back link on website

Social Media mention on all platforms

Logo on 2' x 3' sponsor banner at event

Logo on flyer or marketing poster

Recognition and promotions through the Chamber
Sponsorship Options
Beer Garden Sponsor

Business Row Sponsor

Cup Sponsor

Golf Cart Sponsor

Oviedo Roots Sponsor

Restroom Sponsor

Restaurant Area Sponsor
$1,250
10' x 10' booth space with tent, table and chairs

Logo with back link on website

Social Media mention on all platforms

Logo on 2' x 3' sponsor banner at event

Logo on flyer or marketing poster

Recognition and promotions through the Chamber
$500
Logo with back link on website

Social Media mention on all platforms

A booth space is not included in this sponsorship (no presence at the event)
$200
Ability to have your business's banner at Taste of Oviedo (3' x 5' banner provided by you)

A booth space is not included in this sponsorship