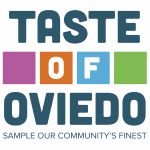 Oviedo Mall's Address
1700 Oviedo Mall Blvd.
Oviedo, FL 32765
When is the Next Event?
Taste of Oviedo in 2024 will be March 23rd!
Can I Volunteer?
Yes! Check out our volunteer website here.
Festival Information Booth
The Festival Information Booth will be located on the south end near the restaurants and Police Command Center. This booth is staffed by the Oviedo-Winter Springs Chamber staff and volunteers.
Lost & Found and Lost Children
The City of Oviedo Police Command Center will be located on the southwest end near the old Chamberlin's Store and Zoo Health Club.
Restrooms
These can be found around the perimeter of the festival event site and are marked on the festival map. Every portable restroom area has accessible restrooms. There will be 5 different locations.
First Aid
City of Oviedo Paramedics and Fire Fighters will be on site with the Police Command Center.
Pets
Be kind to your pets - leave them at home while you visit the Festival. The pavement at the Oviedo Mall can get very hot and harm their paws. Bringing pets is highly discouraged for your animal's safety and patrons alike.
Food & Beverage
Check here for more information.
Free Accessible Parking
Look for the Handicap Accessible signs closest to Oviedo Brewing. The Oviedo Mall also has spaces available.